Jacques Rupnik Study Room
Opening hours
Monday - Thursday
8 AM – 6 PM
The study room is located on the 1st floor of the University Library. It is a newly renovated space, intended as a multifunctional study room and a place for meetings and events organized by the library and other entities of the university.
The first part is used as a study room for documents to study on a desk, and there are also computers, black-and-white and colour printers, scanners, and ring binding. The reading room collection consists of three main parts:
Jacques Rupnik Library - contains over 1,500 documents (books and journals) in the fields of Central and Eastern European politics, world politics, international relations, internal political developments, history, and other related fields. The documents are intended for studying on a desk.
Publication activities of the University of Ostrava - the collection contains over 800 books and journals produced by the University of Ostrava. The documents are intended for studying on a desk.
Collection of the Faculty of Social Studies - contains over 1,200 documents focusing on social work, social policy, and other related fields. Books can be borrowed on a short-term basis.
The other part is intended primarily as a study room, but thanks to the variability of the space, it can be arranged for various lectures and events according to the requirements of the participants.
If you need the full text of articles from international professional and scientific journals, use the EDS / Ebsco Discovery Service. For creating, managing, and sharing bibliographic citations, we recommend the Citace PRO tool. If you need advice, ask a member of the study room staff.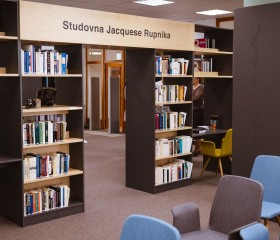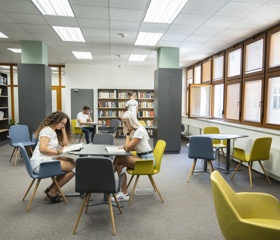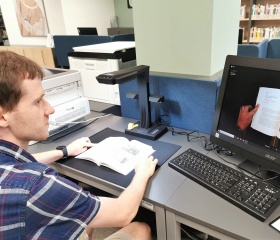 Contact:
Phone: +420 553 46 1227
E-mail:
Building UK
Updated: 02. 06. 2023